Fatra PVC Coated Metal
ideally suited for roofing & guttering applications
Can easily be used to produce weirs,
outlets & stop ends.
1000's of trouble free installations throughout
the UK, Ireland & mainland Europe.
SEE OUR RANGE OF PRODUCTS
Raintite have been manufacturing Fatra coated metal for several years, developing the product to meet fabricators and installers needs. Reducing fabrication time and eliminating 50% of site welding through the innovative membrane overlap system.
Our Fatra Coated Products come with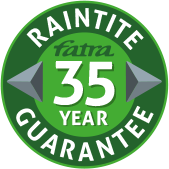 Developed with our unique trade marked tread pattern for safe, reliable installation and sustainable durability. Raintite is the only coated metal that can provide a 35 year guarantee. If it isn't Raintite, it isn't rain tight.
Install the first time with no issues. Training ensures a quality installation
A few choice examples from the 1000's of the clients' projects Raintite have supplied